DRUG APPROVALS IN 2020
In 2020, despite several challenges due to the COVID-19 pandemic, the FDA has approved many novel products that served previously unmet medical needs and significantly helped in advancing patient's quality of life. The broad indication wise distribution (Figure 1) of all CDER's 2020 drug approvals indicates notable advances in drug discovery1,2.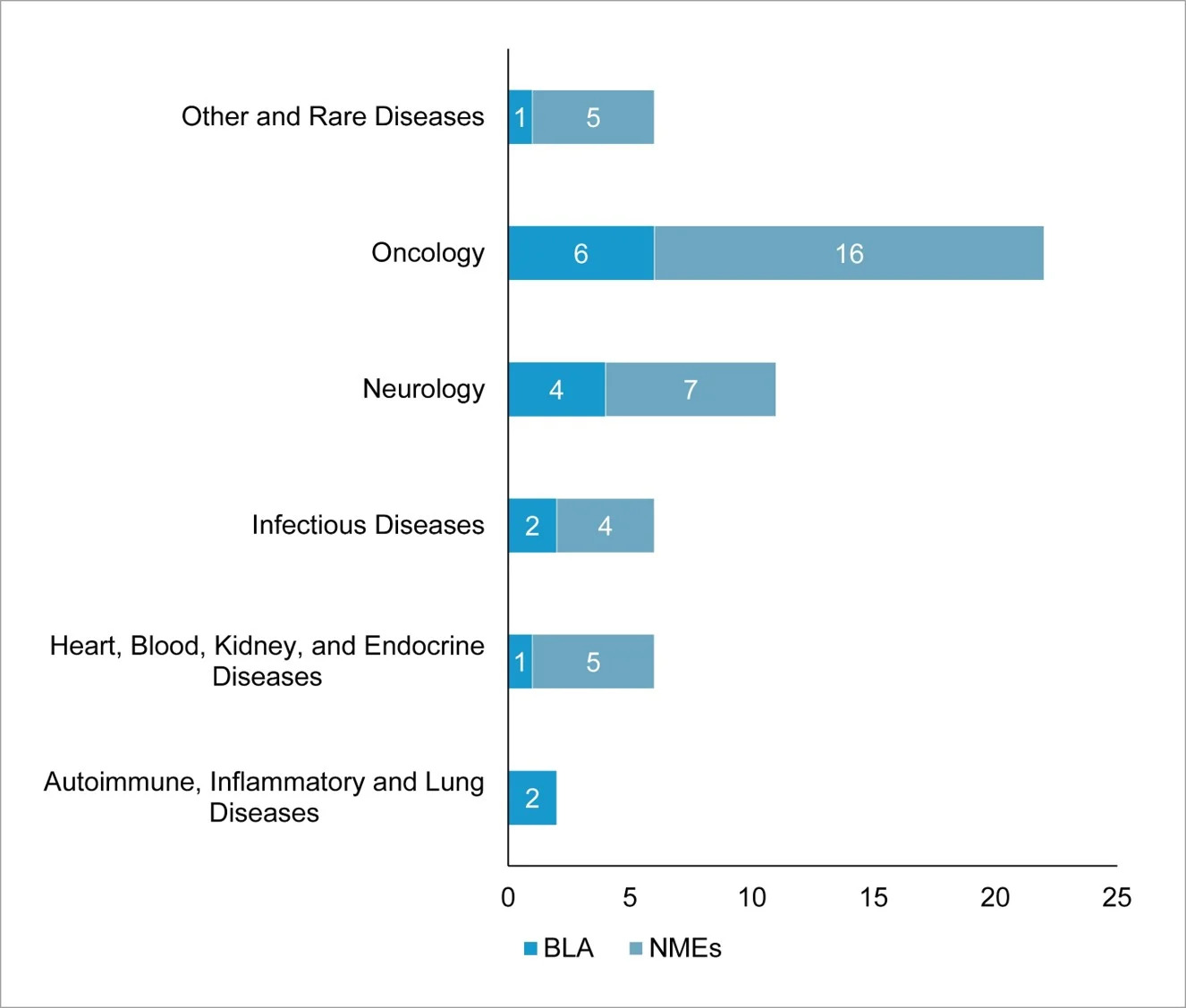 Figure 1: Indication wise drug approvals (BLA vs NMEs)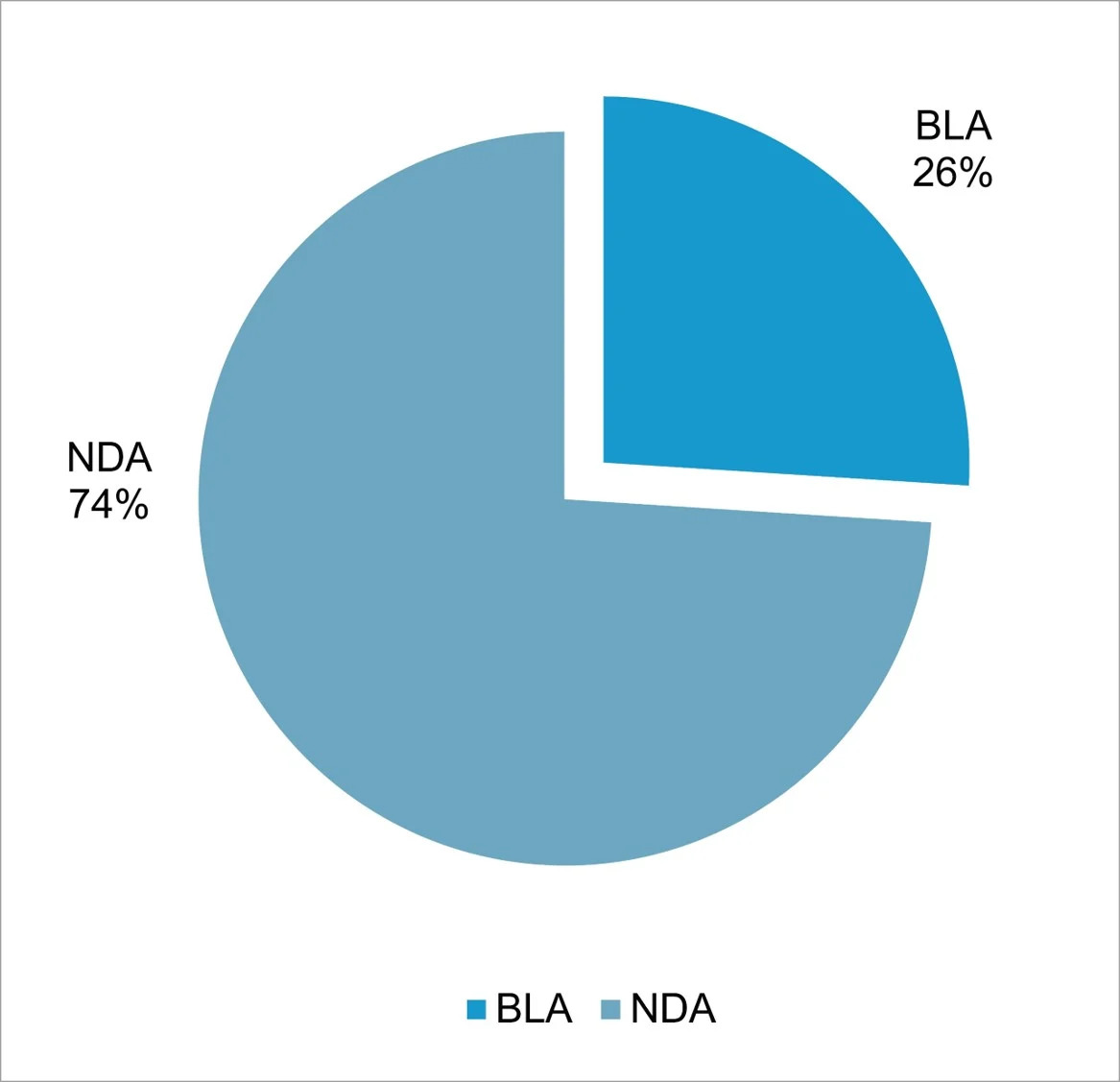 Figure 2: Proportion of NDA vs BLAs in new drug approvals
CDER, approved 53 novel drugs*, either as New Molecular Entities (NMEs) under New Drug Applications (NDAs: 74%) or as new therapeutic biologics under Biologics License Applications (BLAs: 26%).
New Drug Approvals (FDA) in 2020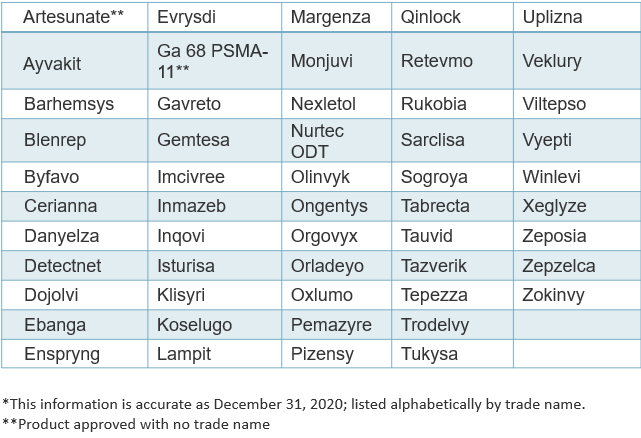 Table 1. The list of 53 approved drugs:
Significant drug launches of 2020
Many of the novel entities approved in 2020 are notable for their potential positive impact and unique contributions towards medical care.
First-in-class novel drugs
40% of novel drugs (21 of 53) approved as 'First-in-class'. Few notable approvals include:
Rukobia (Fostemsavir, Viiv Healthcare, 07/02/2020)
A new type of antiretroviral medication to treat HIV-1 via gp120:CD4 cellular interaction.
Koselugo (Selumetinib, AstraZeneca LP, 04/10/2020)
MEK1/2 (RAF-MEK-ERK) inhibitor, for treatment of certain pediatric patients with neurofibromatosis type 1 (NF1PN).
Orphan novel drugs
58% of novel drugs (31 of 53) designated as 'Orphan status' to treat rare diseases. Notable examples with rare diseases include:
Evrysdi (Risdiplam, Genentech Inc, 08/07/2020)
mRNA splicing modifier for SMN2, used as a treatment for spinal muscular atrophy (SMA).
Lampit (Nifurtimox, Bayer Healthcare Pharms, 08/06/2020)
The first therapy approved by FDA to treat pediatric patients with chagas disease.
Orladeyo (Berotralstat, BioCryst Pharmaceuticals Inc, 12/03/2020)
A plasma kallikrein inhibitor, to treat patients with hereditary angioedema (HAE).
Other notable drug approvals