Empowering you to make informed decisions
Growing R&D organizations face data engineering challenges like processing raw data, building the right infra to consolidate & enrich a variety of data repositories, and handling large-scale data processing. Our experts handle a wide variety of data types using the latest programming languages and bioinformatic workflow frameworks. We complement your teams to develop novel algorithms and methods to advance discovery and translational research programs.
Get in touch
We operate a science-first approach to data engineering for R&D-IT in pharma. Our domain experts and experienced engineers deliver a focused, end-to-end service catalog.
We interface science and technology to support your entire digital journey from strategy definition, through delivery, to ongoing support. Our services include:
Data modeling
Before taking advantage of data science and analytics applications, the data must be in the best possible condition. We provide data modeling services that help optimize subsequent activities. We fulfill data wrangling, transformation, management, and enrichment requirements, and offer graph data storage, semantic enrichment, and deployment services as required.
Process automation
High-throughput screening in research, LIMS instrument integration in product development, and many other processes can benefit from the significant efficiency gains provided by automation. We customize automation solutions to your requirements, using the best tools to maximize time savings and efficiency.
Workflow orchestration
Like process automation, high-traffic workflows have much to gain from orchestration. R&D experimentation, scientific benchmark data ingestion, large-scale omics data analysis, and data provenance reviews are optimized by effective workflow orchestration. We have substantial experience using open-source and licensed software platforms to build orchestrations that fit seamlessly with your workflow to provide the workflow advantages you're looking for.
Managed services
IT departments ensure enterprise applications and systems remain operational under all circumstances. They must also act fast to support end users with service requests and intermittent issues. We have a proven track record of providing scale, quality, process, and application support to reduce the burden on your internal teams. Our support can have a measurable impact on end-user efficiency, satisfaction, and reduced application downtime.
Our domain + tech approach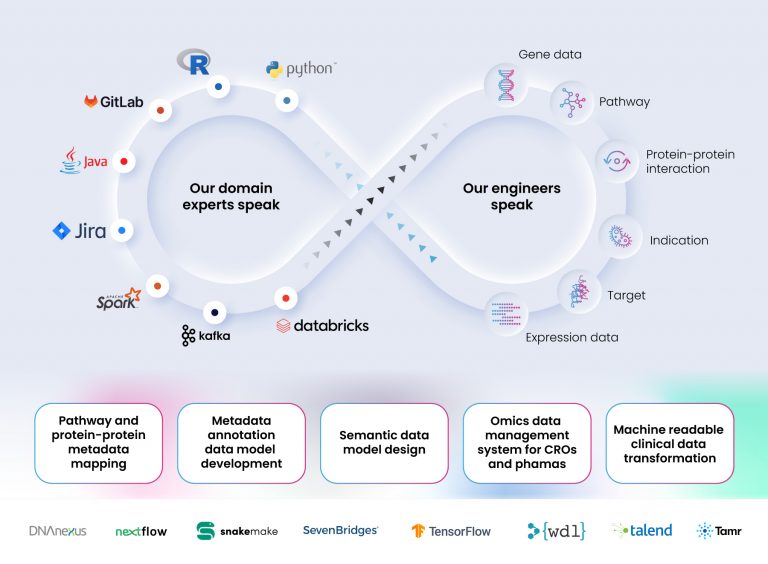 Enterprise-wide marketplace development
The client sought to develop a centralized marketplace that is
hosted on a data lake
with metadata standards to facilitate search functionalities for bench scientists, and
embedded support for ongoing user management
audit-friendly infrastructure
There are around 10,000 scientists in the client's R&D operation, but very little data on medicine development and trials was shared between them.  There were parts of it that had been done using traditional data warehousing in the past, with attempts to structure and organize data using technologies such as Oracle and Teradata.
We pursued an accelerated timeline by leveraging parallel workflows for data curation, data management, application development, and GxP documentation development.
It included:
Kafka, a distributed data streaming software, that can help achieve high throughput, minimal latency, high computation power, and can handle large volumes of data without any perceptible lag in performance
Airflow was also used for workflow management as a data orchestration tool to write, schedule, and keep an eye on the workflows for processing data.
Using this, we extracted data from public and legacy data sets relevant to translational R&D. We then structured and engineered the data, maintaining metadata and required relationships via semantic modeling and knowledge graphs. We designed, developed, tested, and deployed the marketplace application, then provided GxP documentation as the client required.
With our help, the client migrated over 29 million study records from the legacy source to the new application.
Unison of data, deep domain, and tech
We're data evangelists, unapologetically committed to activating the value of data in your R&D activities.
Aligned to your environment
Our team of 150+ data engineers uses the most advanced tools and technology on the market, to provide services that are aligned with your tech environment.
End-to-end data lifecycle management
We help manage your data throughout its lifecycle, so it's optimized for maximum data security and insights.
Ready to get more from data?
Tell us about your objectives. We'll help get you there.
"*" indicates required fields