Applications
More efficiency, greater acceleration, better value
One of the biggest challenges when you embark on digital transformation within your R&D is finding the right system (ELN/LIMS) and an implementation partner. Our R&D informatics experts help you choose the right solution for your needs and help implement it. If you already have an ELN and LIMS, we will help you modernize your landscape to remove your technical debt. We can together streamline workflows, achieve your digital transformation goals, and help accelerate your research. We have expertise with all the popular ELN and LIMS systems. Listed a few below.
IDBS EWB, Polar and Activity Base
Benchling
Dotmatics ELN, BioBright
Thermo Fisher Sample Manager, Watson and Core LIMS
Labvantage
Biovia Onelab, Pipeline Pilot
STARLIMS
Labguru
Caliber LIMS
Agilab
Revvity Signals
CDD
Sapio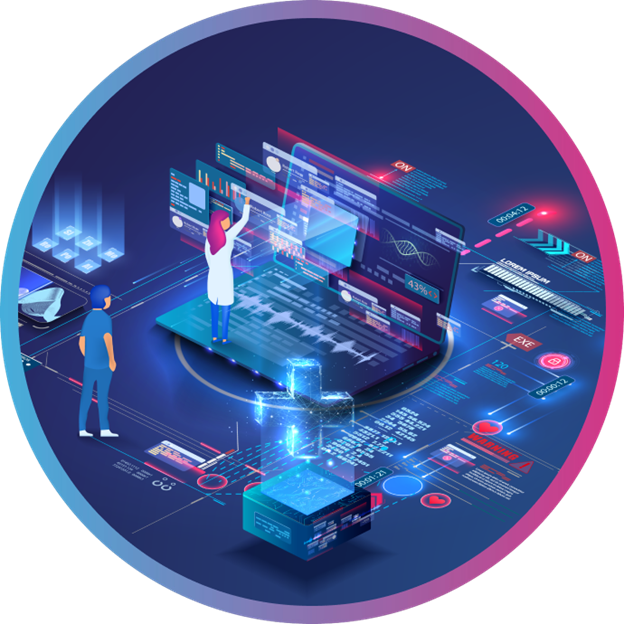 Business Consulting and Scientific Advice
We know investing in ELN and LIMS is a significant investment and you expect to get a value quicker and get the best value out of it. Our team of experts knows about all the ELNs and LIMS in the industry and we will help you define your requirements and critical use cases to find the right solution through vendor evaluation. Our partnership with these vendors enables us to get a speedy response. Overall, we help you choose the right solution quickly and help you with the implementation. Our business consulting and scientific advice team is dedicated to providing expert guidance and support for business operations in the lab informatics area. The lab informatics area is rapidly evolving, with new technologies, standards, and regulations emerging. Our team specializes in the latest technologies and best practices to enable you to bring digital transformation to your labs.
Strategic consulting to help with digitalization strategy and vendor evaluation
Business Analysis to do AS-IS and TO-BE state of workflows with optimization
Scientific advice on ELN and LIMS solutions and architecture
ELN and LIMS Implementation and Delivery
We understand delivering value to the business and getting the best of your ELN and LIMS is critical for you. Our specialized expert team has done a lot of implementations to accelerate the implementation and deliver value quickly. Our team of experienced professionals specializes in the implementation and customization of scientific software applications, ensuring that they meet each client's unique needs. Implementing scientific software applications can be a complex and time-consuming process with many potential pitfalls and challenges. Our team has years of experience in this area, and we have developed a streamlined efficient approach that minimizes risk and maximizes success.
COTS Software Implementation
Workflow configuration and customization
Training and support
Program and Project Management Services
Project planning and management are key to gluing the diversified team together and all the stakeholders share the common goal and they are fully informed on the implementation status. Our prior experience helps you to manage projects efficiently with a clear risk and change management strategy. We provide high-quality project and program management services to help our clients achieve their digital transformation and lab modernization goals. Our team consists of experienced project managers who have a proven track record of successfully implementing ELN and LIMS projects.
Program Governance of R&D Digital transformation
Program Planning and Execution of R&D IT projects (ELN and LIMS)
Stakeholder Management and Project Reporting
Risk and change management
Managed Services
Ongoing operational support is critical for the improved user experience. Our scientific support team will help the end users for better user adoption and satisfaction. We provide bespoke support service from L1 to L4 and we follow the ITIL framework. We also work on the DevOps model so our team can help you to enhance the workflows while continuing to support the end users.
Incident Management
Problem Management
Change Management
Configuration Management
ELN and LIMS Hyper-Accelerator
Our business consultants and scientific advisors help implement and optimize your ELN and LIMS, streamline workflows, achieve digital transformation goals, and accelerate research.

Product Design and Development
We're not just software developers. We're science-driven, data-driven product builders. We speak your domain language and brainstorm creative solutions with you until we're fully locked into your objectives. The products we co-design are purpose-built with a custom technology stack, or the right-fit off-the-shelf product to propel your research initiatives.

Holistic Expertise
Our team possesses a comprehensive understanding of both Electronic Laboratory Notebooks (ELN) and Laboratory Information Management Systems (LIMS). This unique blend of expertise enables us to provide integrated solutions that streamline your laboratory workflows, from data capture to management and analysis.
Tailored Solutions for Efficiency
Recognizing that every laboratory has its distinct requirements, our consulting and implementation services are tailor-made to fit your specific needs. We collaborate closely to understand your processes and challenges, ensuring that our solutions optimize efficiency, accuracy, and compliance.
Seamless Transitions and Growth
Our proven track record in successful ELN-LIMS implementation guarantees a seamless transition to digital solutions. As your research evolves, our services scale with you, adapting to new technologies and expanding functionalities. This scalability ensures that your laboratory remains at the forefront of data management and analysis.
Ready to get more from data?
Tell us your objectives.
We will help you get there.
Embark on a new era of research management with our ELN/LIMS services. Experience seamless data organization, accelerated workflows, and enhanced collaboration. Connect with us today to elevate your research efficiency through our advanced ELN/LIMS solutions.
"*" indicates required fields