The COVID-19 Vaccine Landscape
The ongoing COVID-19 pandemic is continuing to spread rapidly across the globe. As of 7th Feb 2021, the World Health Organization (WHO) has reported over 105 million cases and over 2 million deaths across 219 countries. Current clinical research is focused on accelerating the development of drugs and vaccines for treatment of SARS-CoV-2 infection.
With the number of clinical trials increasing by the day, identification and selection of potential biomarkers for inclusion in the clinical trials is of paramount importance for the success of COVID-19 clinical studies. Excelra's COVID-19 Database, an open access biomarker database is our contribution to the global scientific community, to help identify biomarkers from published clinical trials against the novel coronavirus disease.
Vaccines in development
A broad range of candidate COVID-19 vaccines are being investigated globally using various platforms. A handful of vaccines have been approved by various regulatory authorities and many more remain in development at both clinical and pre-clinical stages.
Currently, there are 63 candidate vaccines in clinical development and 175 vaccines in pre-clinical development. There are 20 candidate vaccines in stage 3 clinical trials and 9 vaccines have been authorized across several countries.
Figure 1: Vaccines in clinical and pre-clinical development.
The vaccines can be broadly categorized into virus vaccines (Attenuated live virus, inactivated dead virus), protein-based vaccines (protein sub-units, virus-like particles), viral vector vaccines (replicating vector, non-replicating vector), and nucleic acid vaccines (DNA vaccine, RNA vaccine).
Among the candidate vaccines in clinical development, the popular ones are the protein-based vaccines followed by non-replicating vector vaccines and inactivated virus vaccines.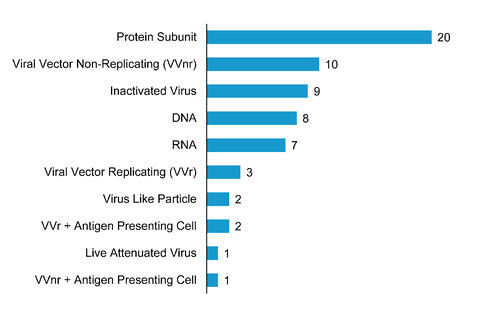 Figure 2: Vaccines in clinical development.
Similarly, protein-based vaccines followed by RNA based vaccines and non-replicating vector vaccines are among mostly researched vaccines in pre-clinical development.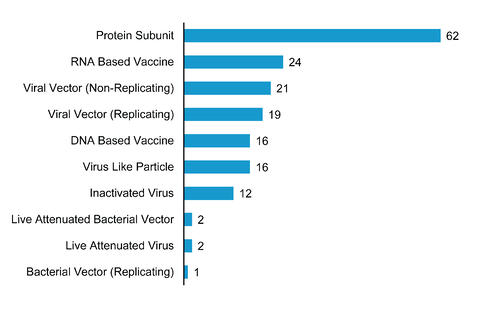 Figure 3: Vaccines in pre-clinical development
Vaccines Approved
Below is a list of all vaccines that have achieved regulatory authorization or approval across different countries.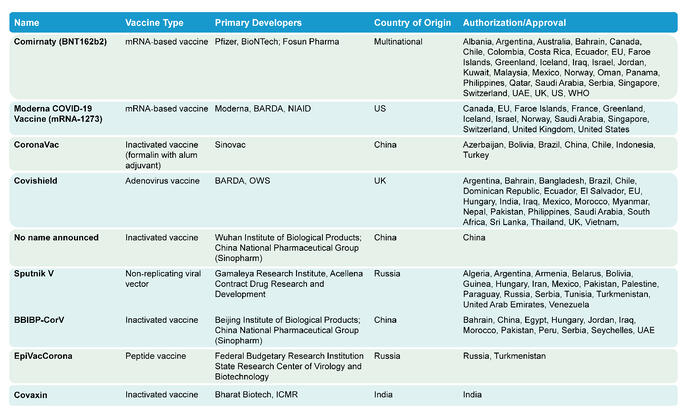 Table 1: List of approved vaccines.
GOBIOM's free COVID-19 biomarker database
Excelra's COVID-19 Biomarker Database is a collection of manually curated clinical biomarkers, meticulously annotated by our data-scientists, to support the development of drugs/vaccines for treating COVID-19. With the number of clinical trials increasing by the day, identification and selection of potential biomarkers for inclusion in clinical trials is of paramount importance for the success of COVID-19 clinical studies