Biologics, also known as biological products, are any type of medicines derived from living organisms such as humans, animals, or microorganisms via highly complex manufacturing processes and administered under closely monitored conditions. This is in contrasts to traditional non-biologic pharmaceutical drugs, which are synthesized in a laboratory through chemical processes without the use of components of living matter. Cancer, infectious diseases, autoimmune disease are among the ailments for which biologics are used to prevent, treat, or cure (Fig. 1).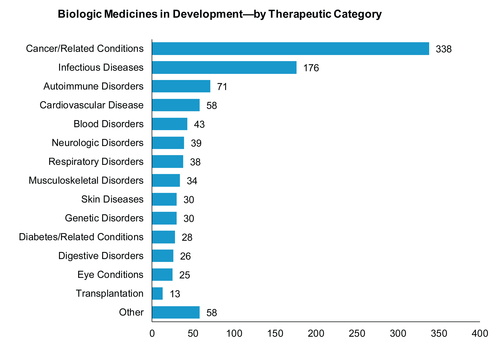 Biologics include a wide variety of products such as monoclonal antibodies, vaccines, gene and cell therapies, and recombinant proteins (Fig. 2).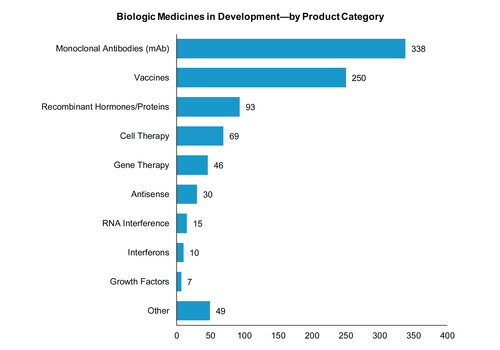 Monoclonal antibodies are by far the most researched category of biologics with at least 338 therapeutic mAbs currently being developed by pharmaceutical companies [1].
Monoclonal antibody (mAb) – the bestselling category of biological products
Antibody engineering has significantly advanced ever since the approval of the first monoclonal antibody by the United States Food and Drug Administration (US FDA) in 1986 [2]. Therapeutic antibodies currently available in the market are safe with fewer adverse effects owing to their high specificity. Consequently, antibody drugs have become the leading class of newly developed drugs in recent years. Eight of the top ten bestselling drugs worldwide in 2018 were biologics. In 2018, the global therapeutic monoclonal antibody was worth roughly US$115.2 billion, with revenues expected to reach $300 billion by 2025 (Fig. 3) [3].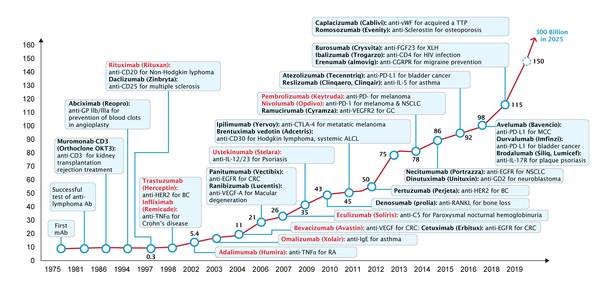 As of December 2019, US FDA had approved 79 therapeutic mAbs, including 30 for cancer treatment [4].
Best-selling biotech drugs worldwide
AbbVie's Humira and Merck's Keytruda are among the top-selling biotechnology drugs in the world, generating 19.6 billion and 11.1 billion U.S. dollars, respectively, in 2019 (Fig. 4) [5]. Oncology, autoimmune/immunology, hematology, ophthalmology, and dermatology are among the top five therapy areas in 2019. Oncologic treatments account for six of the top-selling drugs in 2019, making oncology the most targeted field [6].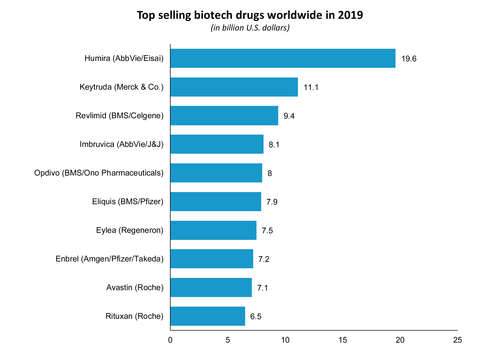 Bristol Myers Squibb, AbbVie, Pfizer, and Roche are four pharmaceutical companies with more than one best-selling drug of 2019. Bristol Myers Squibb had the most top-selling drugs (Eliquis, Opdivo, and Revlimid) in 2019, accounting for 63% of the company's total revenue. Whereas AbbVie's revenues in 2019 were significantly reliant on its main products (Humira and Imbruvica), which accounted for 72% of the company's total revenues [6]. The United States spent approximately 45 billion U.S. dollars on biotechnology research and development. In addition, the United States had approximately 34% of the world's share of biotechnology patents filed in 2014, while Germany filed 8% of global biotech patents [5].
The Rise of Biosimilars
A biosimilar is a biologic that is similar to another biologic medicine (known as a reference product) that has already been approved by the FDA in the United States. In terms of safety, purity, and potency, biosimilars are very similar to the reference product, but there may be minor differences in clinically inactive components. The biologics and biosimilars industry in the United States is fast expanding, and as new medications are introduced, the benefits for patient access and cost management will continue to grow. There are 18 biosimilars on the market in the United States as of November 2020, competing against seven reference biologics, with ten more FDA-approved biosimilars expected to hit the market in the coming years [7].
Biosimilars save money in the long run, with higher savings coming from newer launches competing against more expensive drugs. The gap between the originator and the mean Average Sales Price (ASP) of their biosimilars ranged from 8.1 percent to 45.1 percent lower than the originator products as of July 2020 (including insulins) [7]. Biosimilars saved 6.5 billion U.S. dollars annually in the second quarter of 2020, and savings are expected to exceed 100 billion U.S. dollars over the next five years [8].
A biopharmaceutical product knowledge base is the need of the hour
Antibodies are the most successful class of biotherapeutics because of their binding versatility [9]. With the rapid growth of therapeutic antibody research, the chances of a specific antibody being the only one against a certain antigen are decreasing. Understanding the methods used to produce competing antibodies, as well as their pros and cons, can be extremely helpful in moving therapeutic antibodies forward. Data from clinical trials dominate the scientific literature on therapeutic antibodies, rather than the details of pre-clinical development that is underway for nearly two-thirds of all therapeutic antibodies. The information on the latter could only be obtained from patents. Many researchers are put off by patents' opaque and archaic language but hidden in the text of these files are details about antibody sequences, assay techniques, epitopes, and much more. Patent applications are usually the first public disclosure of novel antibodies, often months or even years before conference papers or clinical trials. Researchers can identify novel antibodies in early stages of development months or years before they are formally announced by mining the patent literature.
There are very few databases that harvest this information. The IMGT Monoclonal Antibody Database and WHOINNIG are two non-commercial resources for antibody research. Other databases that aren't unique to antibodies, such as ChEMBL, DrugBank, and KEGG DRUG, also capture WHO data. Most databases deliver additional metadata for their therapeutic entries, such as clinical trial status, companies involved in development, target specificity, and alternative names. While these archives include sequence information, it is currently not possible to query them by sequence or to bulk-download relevant collections of therapeutic sequences for direct bioinformatic analysis.
Excelra is strongly positioned to deliver tailor-made curation on chemically defined antibodies (i.e., antibodies with a known primary amino-acid sequence) connected with their antigenic target, which can be either a protein or a chemical entity.
For more information and to connect with our scientific teams, write to us on: marketing@excelra.com
References
1. PhRMA [Pharmaceutical Research and Manufacturers of America] (2013). Medicines in Development: Biologics. 2013 Report. http://www.phrma.org/sites/default/files/pdf/biologics2013.pdf Accessed 10 Jul 2021.
2. Ecker, D. M., Jones, S. D., Levine, H. L. The therapeutic monoclonal antibody market. MAbs. 2015, 7, 9–14.
3. Lu, R. M., Hwang, Y. C., Liu, I. J. et al.Development of therapeutic antibodies for the treatment of diseases. J Biomed Sci. 2020, 27 (1), 1-30.
4. The Antibody Society (2019). In: Approved antibodies. https://www.antibodysociety.org Accessed 10 Jul 2021.
5. Statistica (2020). Select top selling biotech drugs worldwide in 2019. https://www.statista.com/statistics/299138/top-selling-biotech-drugs-based-on-revenue/ Accessed 10 Jul 2021.
6. PharmaIntelligence (2020). Top 10 Best-Selling Drugs of 2019. https://pharmaintelligence.informa.com/~/media/informa-shop-window/pharma/2020/files/reports/top-10-best-selling-drugs-of-2019.pdf Accessed 10 Jul 2021.
7. IQVIA Institute Report (2020). Biosimilars in the United States 2020 – 2024. https://www.iqvia.com/-/media/iqvia/pdfs/institute-reports/iqvia-institute-biosimilars-in-the-united-states.pdf?_=1606843358393 Accessed 10 Jul 2021.
8. IQVIA Institute Report (2020). Biosimilars in the United States 2020 – 2024. https://www.iqvia.com/-/media/iqvia/pdfs/institute-reports/iqvia-institute-biosimilars-in-the-united-states.pdf?_=1606843358393 Accessed 10 Jul 2021.
9. Kaplon, H., Muralidharan, M., Schneider, Z., Reichert, J. M. Antibodies to watch in 2020. MAbs. 2020, 12(1), 1703531.