In the twentieth century, pharmacology and drug development revolutionized our existence. Life expectancy worldwide increased significantly, and vaccines eradicated many life-threatening diseases. Quality of life also improved, with pain relief drugs and disease management treatments allowing fuller – not just longer – lives.
The years between 1930-1960 are often considered the 'pharmaceutical golden era,'[i] a period of 'profound advances in surgical techniques, immunization, drug discovery, and the control of the infectious disease.'[ii] Many factors contributed to the variety and rapidity of drug discoveries and pharmacological advances in this period, but among the most influential was the proliferation of data, and new approaches to recording, extracting, applying, and analyzing it.
The value of pharmacological data has increased ever since. It has grown exponentially in correlation with pharmaceutical research and design budgets. Yet despite the volume of data and the expenditure of R&D departments, the number of new molecules coming through the drug discovery and development pipeline has not met expectations. Pharmaceutical companies have started to recognize that although big data has the potential to unearth new discoveries or reappraise old assumptions, it must be applied intelligently and selectively. Even a limitless canvas requires a subtle touch.
The need for analysis-ready clinical data sets in drug discovery and development
Clinical data opens the door to exciting drug discovery and development opportunities. But the volume and variability of available data can be overwhelming. In a fiercely competitive market, companies can't afford to waste time slowly identifying relevant pharmacology, toxicology, and biomarker data and preparing it for analysis. They need it quickly available and effectively digitized to support critical decision-making milestones along the drug design and development journey. Efficiency in their decision-making processes significantly impacts program delivery and commercial viability.
For intelligently selected data to be fit for high-quality analysis, it must first be standardized. Data is often gathered from disparate global sources in a variety of conflicting or incompatible formats. Before it's ready for analysis, it requires digitizing, cleaning, validating, and formatting.[iii]
Decision-makers require clinical data sets that yield clear, consistent, and error-free results. Only clean, validated, usable data sets provide the requisite level of confidence to stakeholders faced with critical, high-value decisions.
Analysis-ready scientific data curation and information services
Pharmaceutical companies choose the direction of their drug development journeys after considering many factors. They identify patient needs and gaps in the market to ensure they focus their efforts on opportunities with sufficient demand and commercial marketability. They also venture into areas opened up by technical and scientific advances, such as those illuminated by new approaches to target identification and updated understanding of disease mechanisms.
The door of opportunity doesn't stay open for long, so pharmas and biotechs need to move fast when fertile new ground appears. Fortunately, Excelra gives them a head start by proactively locating areas of growing scientific activity. We implement bibliometrics and PICOS-based data-mining methods to analyze published literature and prepare it for analysis. We map academic and industry trends at all levels down to individual genes and pathways, delivering high-quality data sets that help clients move confidently toward new therapeutic opportunities and unmet market demand ahead of their competitors (fig.1).
Using analysis-ready pharmacological data in drug redevelopment and drug response research
Drug development is rarely a smooth, linear journey. Some programs are paused indefinitely and lay dormant for long periods before a discovery elsewhere reanimates or permanently invalidates it. Other programs conclude successfully but reopen when a new observation suggests an alternative use for a marketed drug. When a drug's clinical use reveals beneficial effects outside the scope of its original indication, pharmaceutical companies can expand the study into new treatment areas. In these instances, focused, systematic manuscript and journal reviews are collated into analysis-ready data sets to enhance and accelerate a new branch of the drug development program.
Exposure-response information determines a drug's safety and efficacy. The relationship between blood concentration (PK) and pharmacodynamic (PD) response is known as PK-PD. Establishing the PK-PD and its variation between population subsets is a critical phase of drug development. Clinicians only consider a drug safe and effective if they observe a favorable balance between beneficial and adverse effects. In some situations – generally involving a well-tolerated drug with little dose-related toxicity – the drug can be used effectively and safely at a single dose well into the plateau part of its exposure-response curve, with little adjustment for pharmacokinetic (PK) or other influences in individuals. In most situations, however, clinical viability is strictly determined by weighing the positive impact against the negative effects at a specific dose.
Drug response data covers a broad range of endpoints and biomarkers. These include clinically remote biomarkers, presumed mechanistic effects, potential or accepted surrogates, and many other short- and long-term clinical side effects related to efficacy and safety. Analyzing this data helps pharma R&D teams assess intrinsic and extrinsic factors that are otherwise not evaluated in a single trial or amongst a limited number of patients. The results of the analyses help inform strategies to select initial dosage regimens, manage dosing and administration for a given subpopulation, plan subsequent studies, or support product labeling and marketing.
The intrinsic and extrinsic factors influencing drug exposure are often investigated in standalone clinical pharmacology studies in controlled settings. However, isolated studies are usually designed to focus on those factors with the highest potential to affect drug exposure, leaving many possible interactions unstudied. Such inquiries also typically have a limited number of subjects, are designed as single-dose studies, and may not be conducted in the target patient population.
With well-structured, analysis-ready clinical data sets, stakeholders can make quick, confident decisions about a drug's potential for ongoing development.


We're the experts in providing analysis-ready pharmacology, toxicology, and biomarker data for drug development
At Excelra, we have a robust and refined approach to collecting, aggregating, and processing routine pharmacological data. Many of the world's largest pharma companies rely on our scientific products and data services to enhance and accelerate their decision-making process.
This is why they continue choosing Excelra:
We have over 15 years of experience delivering data-focused projects in the life sciences.
We're not just a research data company – our highly qualified interdisciplinary team includes over 65 Ph.D. domain experts embedded with innovative technologists and data engineers.
Our dedicated pharmacologists deliver analysis-ready data sets faster and cheaper than in-house teams.
We've delivered clinical trial outcomes data sets for over 120 indications across a wide range of therapeutic areas.
Our team has processed data from more than 25,000 clinical trials.
Our clinical data sets include pharmacology, toxicology, and biomarker data.
Our data is standardized, organized, and formatted into high-quality, analysis-ready data sets to ensure minimal friction during the analysis process.
We provide extensive indication-specific and drug-specific pharmacokinetic (PK), pharmacodynamic (PD), and clinical endpoint data.
We offer preclinical toxicology report digitization (PTRD) services to all our clients, further enhancing their decision-making resources (fig.2).
We support quantitative systems pharmacology teams directly, streamlining their work. We provide custom curation services, delivering indication-specific clinical, preclinical, and in vitro biomarker data for disease modeling. Our clinical trial outcomes data sets include biomarker, PK/PD, efficacy, and safety data for model confirmation.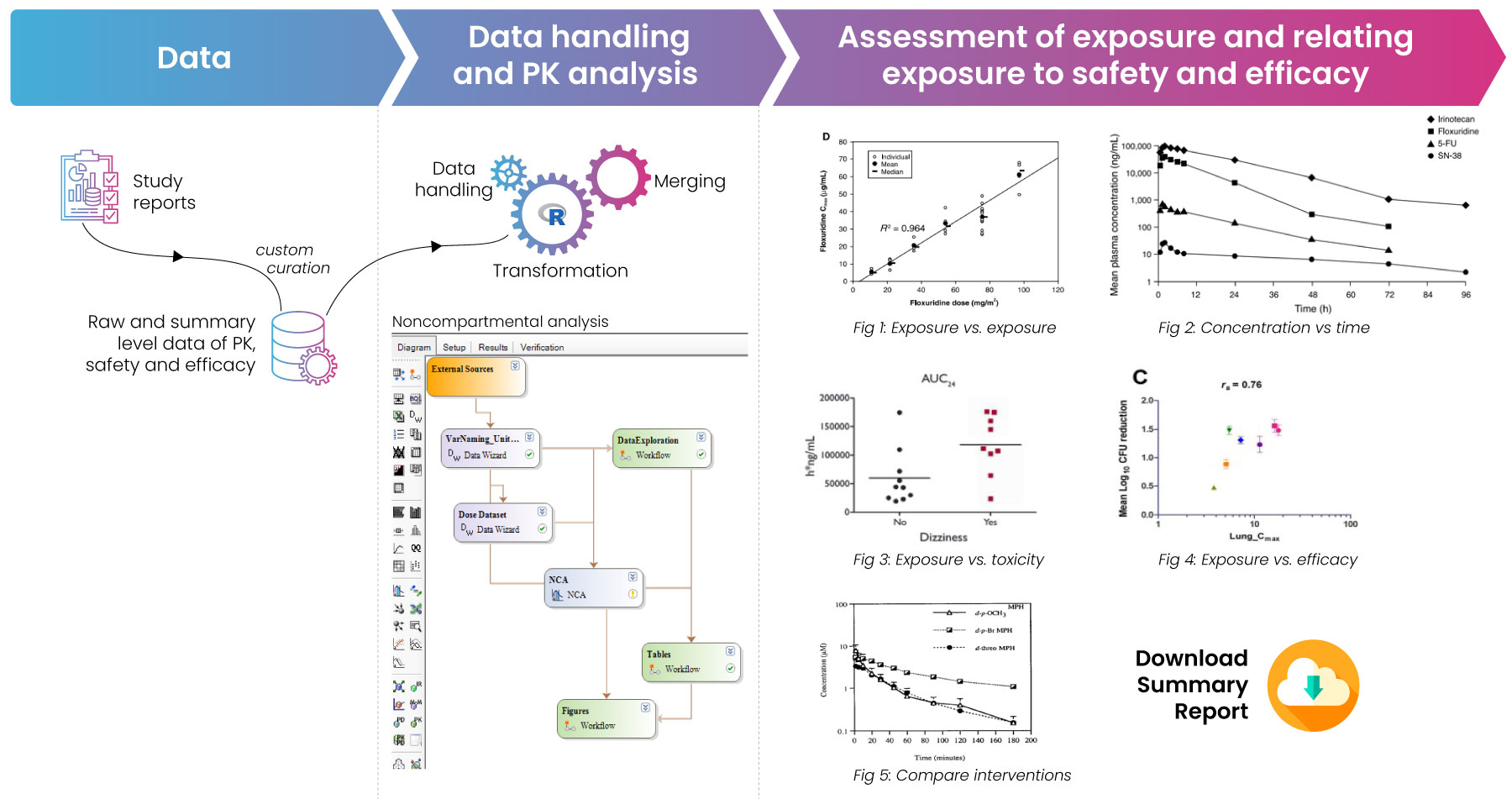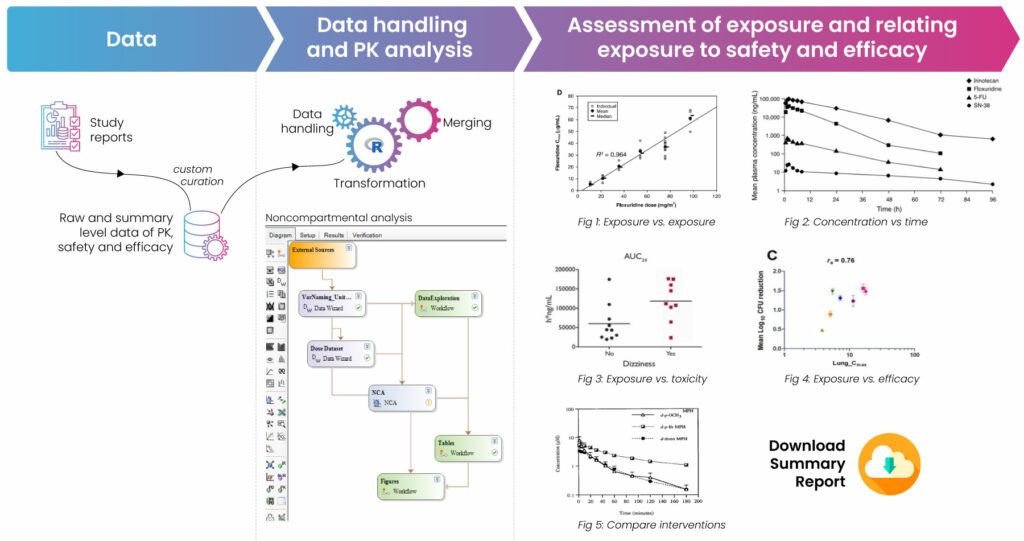 Successful drug development programs demand quick, confident decision-making. Pharmaceutical industry leaders partner with Excelra for the high-quality, analysis-ready data sets they need to make accurate, informed decisions.
To find out how our analysis-ready clinical data can improve your drug development projects, get in touch.
---
References:
[i] Chemical and engineering news (2005, June 20). The Pharmaceutical Golden Era: 1930-1960  https://cen.acs.org/articles/83/i25/PHARMACEUTICAL-GOLDEN-ERA-193060.html
[ii] Logan, A. C., Prescott, S. L., & Katz, D. L. (2019). Golden Age of Medicine 2.0: Lifestyle Medicine and Planetary Health Prioritized. Journal of lifestyle medicine, 9(2), 75–91. https://doi.org/10.15280/jlm.2019.9.2.75
[iii] The importance of tidy data has been discussed in detail by Garrett Grolemund on his GitHub blog: https://garrettgman.github.io/tidying/