Tocilizumab: Repurposing Candidate for Treatment Of Cytokine Release Syndrome Caused By Sars-Cov-2 Infection
Cytokine storm is an uncontrolled release of cytokines in the body in response to external stimuli leading to systemic inflammation. Ferrara et al. (1993) first coined the term "cytokine storm" in graft-versus-host disease. Approximately, 15.7% of COVID-19 patients develop severe pneumonia and cytokine storm. At present there are no specific drugs against either COVID-19 or the cytokine storm it causes in the virus infected patients. Studies have reported the involvement of IL-6 in infection-induced cytokine storm. An IL-6 receptor antagonist Tocilizumab, has been approved (FDA) for the treatment of cytokine release syndrome (CRS) associated with idiopathic arthritis, rheumatoid arthritis, and giant cell arthritis.
Tocilizumab may be used for the treatment of cytokine storm caused by SARS-CoV-2 infection. The cytokine, IL-6 binds to its receptor IL-6R which in turn binds to the signal transducer glycoprotein 130 (gp-130). This initiates and triggers downstream signal transduction. IL-6R may exists in membrane-bound form (mIL-6R), or in soluble form (sIL-6R). In the classical signal transduction pathway, IL-6 binds to mIL-6R to form a complex, and then binds to gp-130. While, in the trans-signaling pathway, IL-6 forms a complex with sIL-6R and gp-130. In either scenario, IL-6 activates two completely different signaling pathways:
The JAK/STAT tyrosine kinase system (major pathway) and
The Ras/mitogen activated protein kinase (MAPK)/NF-κB-IL-6 pathway.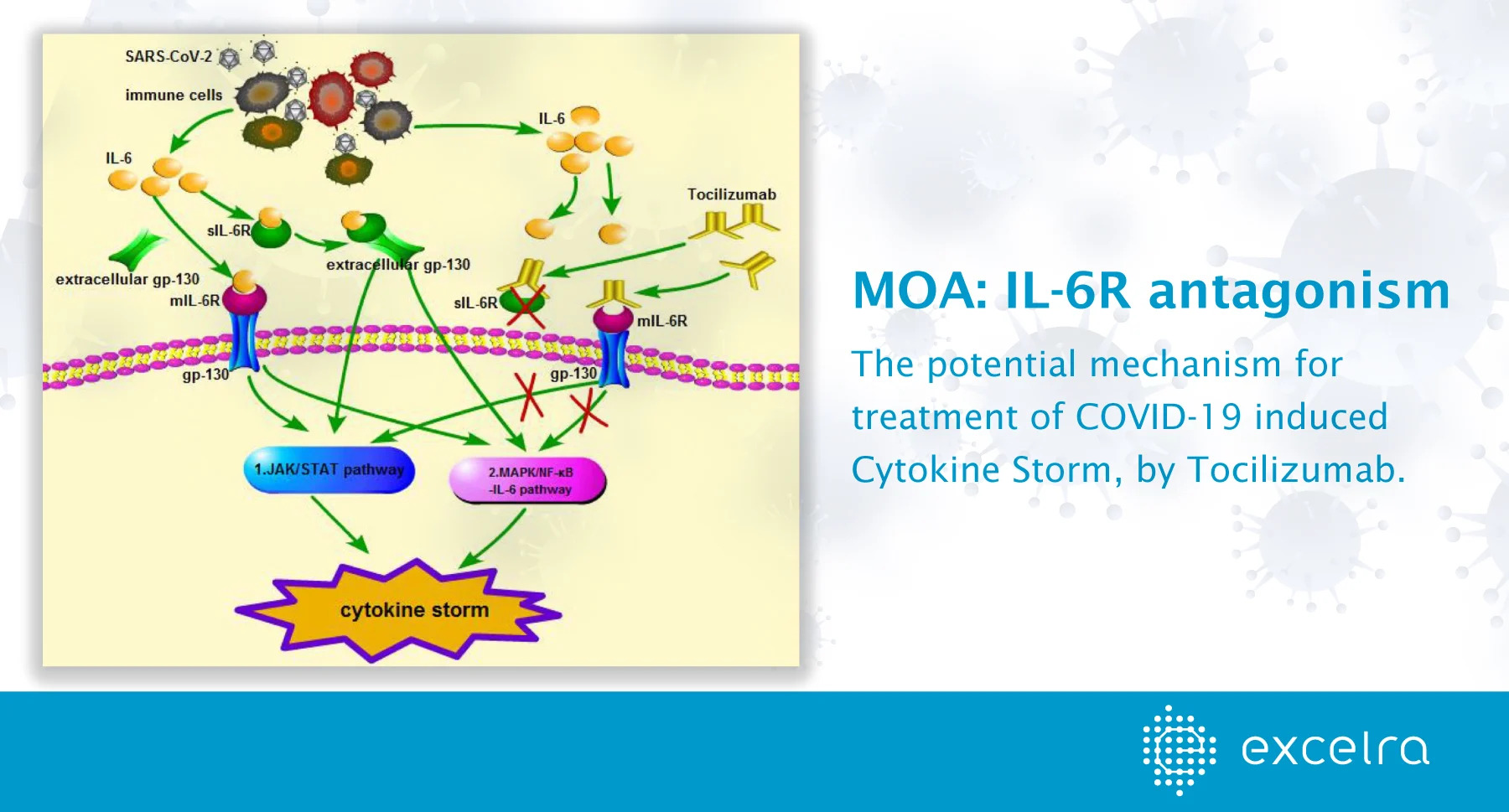 Macrophages, neutrophils, T-cells, etc. express mIL-6R and are involved in the classical signaling at low IL-6 levels. While at high IL-6 levels, trans signaling via sIL-6R can activate virtually all cells of the body and regulate pro-inflammatory reactions. Tocilizumab, can bind to both mIL-6R and sIL-6R to inhibit both classical and trans-signals to control "Cytokine storm" caused due to SARS-CoV infection.
Excelra's open-access COVID-19 Drug Repurposing Database is a synoptic compilation of 'Approved' small molecules and biologics, which can rapidly enter either Phase 2 or 3, or may even be used directly in clinical settings against COVID-19. The database additionally includes information on promising drug candidates that are in various clinical, pre-clinical and experimental stages of drug discovery and development.
Supported with referenced literature, we provide mechanistic insights into SARS-CoV-2 biology and disease pathogenesis. We hope that these drug repositioning approaches can help the global biotech and pharma community develop treatments to combat COVID-19.