RUXOLITINIB – A PROMISING DRUG REPURPOSING CANDIDATE FOR COVID-19
Immune overreaction to a viral infection can lead to a Cytokine storm. It may also result in serious complications such as pneumonia and acute respiratory distress syndrome (ARDS). Ruxolitinib blocks cytokine mediated response by inhibiting the activation of JAK1 and JAK2, a critical intracellular cytokine signaling kinase. Ruxolitinib also acts as a potent suppressor of the secretory phenotype of senescent cells and lethal inflammatory response. Ruxolitinib is a JAK1/JAK2 inhibitor, approved for the treatment of polycythemia vera, myelofibrosis and graft-versus-host disease can be repurposed for the treatment of COVID-19 patients. Currently there are 8 clinical trials looking into the safety and efficacy of Ruxolitinib for treatment of novel coronavirus. Recently, Incyte has initiated a Phase-3 clinical trial of Ruxolitinib to treat cytokine storm caused by SARS-CoV-2 infection.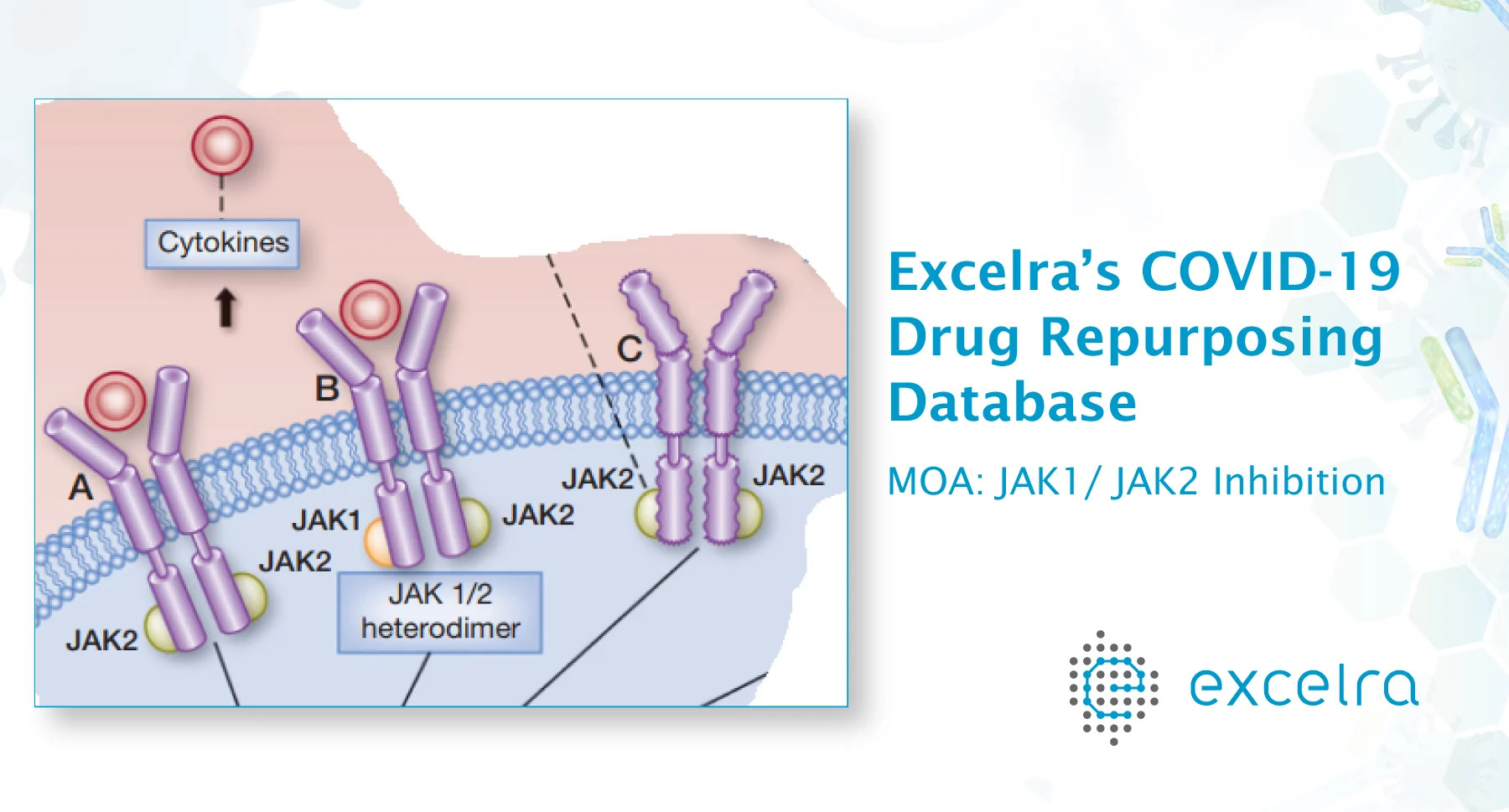 Excelra's open-access COVID-19 Drug Repurposing Database is a synoptic compilation of 'Approved' small molecules and biologics, which can rapidly enter either Phase 2 or 3, or may even be used directly in clinical settings against COVID-19. The database additionally includes information on promising drug candidates that are in various clinical, pre-clinical and experimental stages of drug discovery and development.
Supported with referenced literature, we provide mechanistic insights into SARS-CoV-2 biology and disease pathogenesis. We hope that these drug repositioning approaches can help the global biotech and pharma community develop treatments to combat COVID-19.