EXCELRA'S COVID-19 DRUG REPURPOSING DATABASE
As the novel coronavirus pandemic continues to spread in an unyielding manner, COVID-19 has brought about unprecedented social, economic and health disruptions across the globe. Furthermore, there are currently no specific anti-viral drugs or vaccines to effectively treat or prevent COVID-19. Developing new drugs or vaccines from scratch is a lengthy process, and thus, is impractical to face the immediate global challenge.
Drug Repurposing - A New Hope
In the current crisis, in order to achieve fast and reliable outcomes, repurposing existing drugs can help identify potent treatments against novel coronavirus, and is the only realistic option available. Researchers worldwide have come up with several drug repositioning approaches including: virtual screening procedures, employing docking of different databases containing FDA approved drugs, SARS-CoV-2-human protein-protein interactions mapping, diseases-related molecular networks, drug-target interaction deep learning, iterative network-building, text mining, etc.
Various classes of drugs have been identified in these drug repurposing programs, including many that have important physiological and/or immunological effects such as those that affect viral proteases, viral envelope proteins, replication machinery, neurotransmitter regulation, cytokine signalling, immune modulation, kinase signalling, lipid metabolism, protein processing and DNA synthesis or repair.
However, most of this crucial data is dispersed across numerous publications, reports, databases and knowledge-repositories.
Excelra's COVID-19 Drug Repurposing Database
At this critical juncture, we at Excelra have decided to extend support in solidarity to the ongoing global scientific efforts aimed at identifying safe and effective therapeutic options to treat those affected by the novel coronavirus disease. To this end, our expert scientific team has consolidated the COVID-19 Drug Repurposing Database.
This 'open-access' database presents a landscape of 'Approved' small molecules and biologics with known preclinical, pharmacokinetic, pharmacodynamic, and toxicity profiles; which can rapidly enter either Phase 2 or 3 or may even be used directly in clinical settings against COVID-19. The database additionally includes information on promising drug candidates that are in various 'clinical, pre-clinical and experimental' stages of drug discovery and development.
Supported with referenced literature covering the holistic landscape of drug, disease, target, and mechanism of action; we aim to provide critical insights into SARS-CoV-2 biology and mechanism of COVID-19 disease pathogenesis.
Here is a glimpse into the platform showcasing the features described above: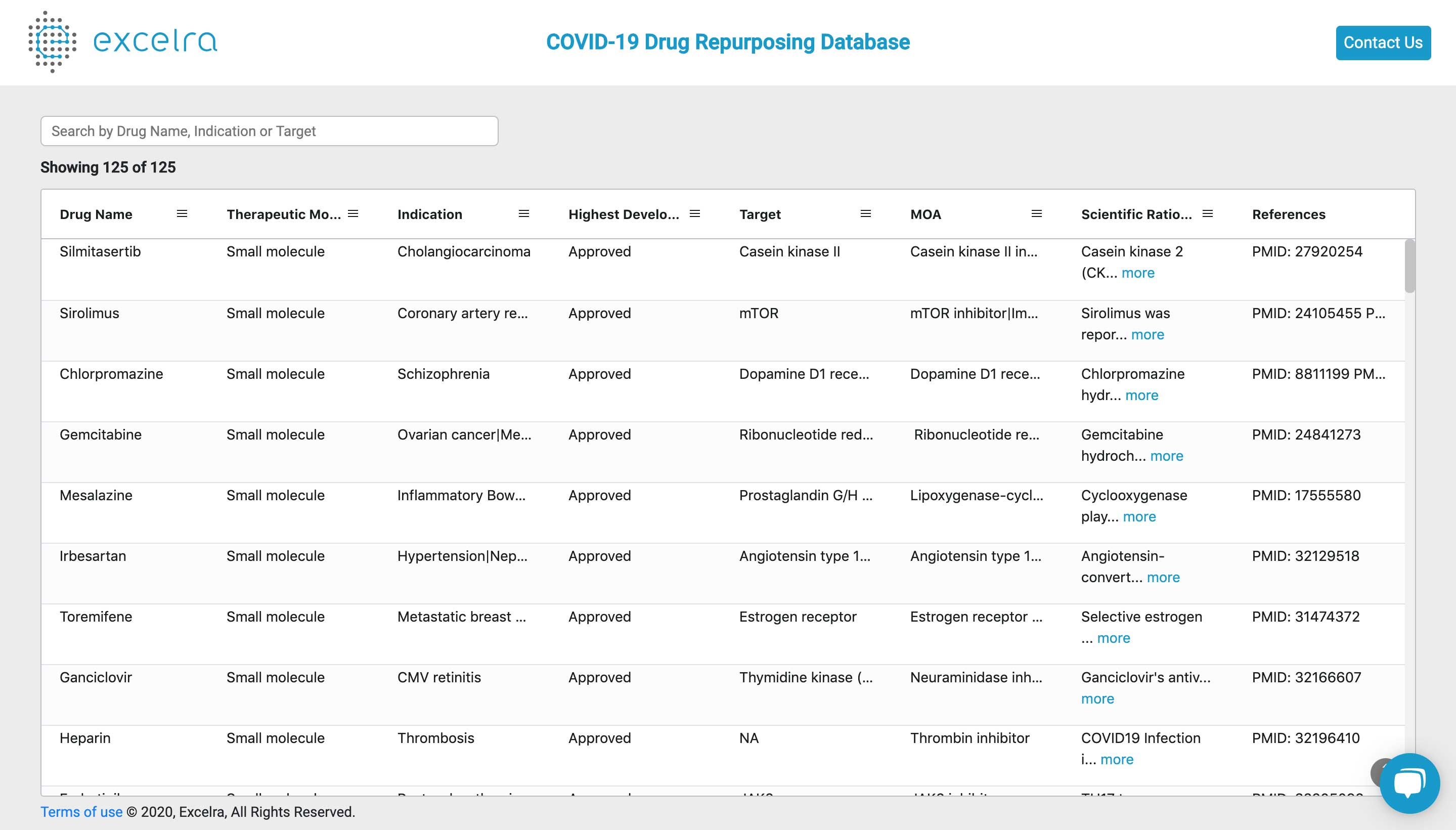 We hope that these drug repositioning approaches and identified drugs can help the global biotech and pharma community design rapid clinical trials, for developing treatments against COVID-19.
Drug Repurposing at Excelra is powered by our Global Repurposing Integrated Platform (GRIP) that combines proprietary repurposing databases, algorithms, analytics tools and a visualization engine. The database within GRIP has been built by amassing chemical data (over 7 million chemical entities), biological data and clinical data (over 200,000 data points) which together contribute to more than 10 million associations among 'drug-disease-target' triads.
About Excelra:
Excelra's data and analytics solutions empower innovation in life sciences across the value chain from discovery to market. The Excelra Edge comes from a seamless amalgamation of proprietary curated data assets, deep domain expertise and data science. The company's multifaceted teams harmonize and analyse large volumes of disparate unstructured data using cutting-edge technologies. We galvanize data-driven decisions to unlock operational efficiencies to accelerate drug discovery and development. Over the past 18 years, Excelra has been the preferred data and analytics partner to over 150 global clients including 15 of the top 20 large Pharma companies.